Is it Sonoma County Horse Property? Or is it Horse-Able? What matters most to you?
Grazing at Home Next to a Russian River Valley Vineyard"]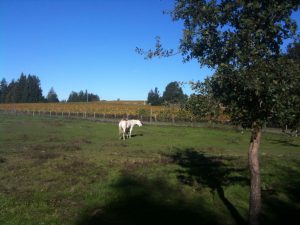 I have been working on "how-to" series this month. How to Buy Country Property? What you need to know about Water and Country Property. Last but most definitely not least is "How to" buy horse property in the wine country? This blog is called Wine Country and Horses after all.
I thought it would be a pretty straightforward matter until I started talking to my clients who have purchased horse property through me, until I realized there was one basic point to consider before getting in to the details.
When you buy your horse property, what is most important to you as you search?
A. The land, location (including trail access), setting and house?
B. The fencing, barn and arena, if any?
I realize that my clients tend to fall in to one of the two camps.
I personally was in the first camp. The setting and location and to a lesser extent the house were paramout to me. I would have loved to find a property that also had a barn and fencing but that was secondary. I had to find the right place first for the horses and me. For the right price I could buy the property and put the improvements in as I saw fit.
When I was looking for my place in 1999, I saw one house in Sebastopol that didn't do too much for me, but the neighboring property had a nicely put together arena, fencing and a barn. If that one had been for sale at the time I might have bought it.

Guess what? It came on the market yesterday. Here is a link to the listing. If you want a combination of a true wine country Sebastopol location, PLUS dialed in horse facilities: a six stall MD Barn with paddocks off the stalls on one side, trailer parking and a bunch of pasture turnout linking barn and a nice arena with proper drainage and footing, here you go. I have seen most of the horse properties, or horse-able properties in Sonoma County. IF you want to learn more, please call or email me.
[idx-listing mlsnumber="21212955″ showfeatures="true" showlocation="true"]