Happy Valentine's Day! Where to Find your Sweetie Some Sonoma County Chocoate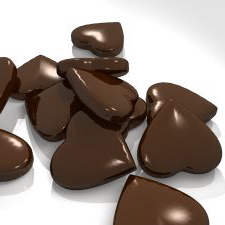 We set out to learn about chocolate in Sonoma County this month in honor of Valentine's Day, Chocolate style. There are a number of specialty candy and chocolate shops here, from Sonoma to Cotati, Petaluma to Healdsburg. We found two that were willing to offer friends and clients a special Valentine's Day discount! For a coupon or special discount code, email me for details and I will be happy to share!
Did you know that Sonoma County has it's own manufacturer and online purveyor of fair trade, organic and even Vegan chocolates? I did not until our chocolate investigation team got to work and found Sjaak's Organic Chocolates in Petaluma! Besides buying some chocolate this month to celebrate Valentine's Day, be sure to visit Sjaak's site and read their story, which stretches from Holland and Spain to Eureka and finally Petaluma, here in Sonoma County. Sjaak's has graciously offered our friends a 15% discount through February 28, 2013, so please email us for a discount code!
Recently I had lunch in downtown Petaluma with a friend. Afterwards we had a sweet tooth so we wondered in to Viva Cocolat at 110 Petaluma Blvd. North. We went straight for the salted caramels but were entranced by the variety of gourmet chocolates from around the world. Next time I am going to stay for a hot chocolate! Or maybe I will take on chocolate appreciation class. Not that I need help in that department. The lovely folks at Viva Cocolat offered our friends a coupon worth 10% off on purchases between now and April 30th. Email me and I will send you a coupon!
Happy Valentine's Day from Sonoma County!