Local Sonoma County Business Confidence at a Six Year High, Led by Tech Firms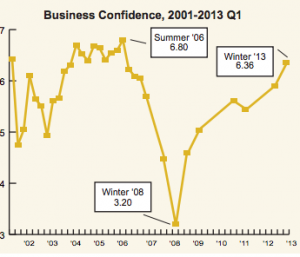 Every six months the Sonoma County Economic Development Board releases the results of it's survey of local business leaders. This winter, confidence is at a six year high–nearly making it all the way back from the very low confidence expressed (not surprisingly) in the winter of 2008. The confidence appears to be strongest in the technology sector, and that probably mirrors the strong tech economy throughout the San Francisco Bay Area. Sonoma County and Bay Area business confidence are outpacing the rest of the US. And guess what, so is our real estate market!
Another marker of business optimism is the Economic Development Board's Purchasing Trends Index which was 70 this winter
making this the second year that Sonoma County has scored higher than the United States Index since 2007. This indicates that business feel less economically challenged operating in Sonoma County than in the US as a whole. Any score above 50 indicates that Sonoma County's economy is expanding.
Here is a link to the Full Report, which breaks out the numbers by industry. Overall the business outlook in the county is much stronger coming out of this recession compared to the rest of the US than it was going in to the recession. In the past Sonoma County was seen as a less favorable business environment but the cost of doing business here has declined and business growth is looking favorable for 2013. This can only bode well for our real estate market. Now we just need more inventory of homes to sell!