Tales of the Wine Country: From the South of France to Healdsburg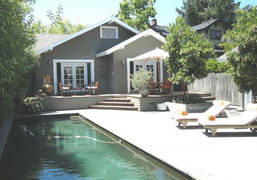 Recently I was working with some long term clients who, though American, had been living in Provence for the past seven years, and London prior to that. They decided it was time to return to the states permanently, and had the entire 50 states from which to choose, as they could work anywhere. I was referred to them by an agent to Santa Barbara, who was introduced to me via Twitter through mutual colleagues. A decidedly high tech (at the time in 2009) connection!
I had originally met them when they first decided to return to the US from France. I introduced them to all of the beautiful towns and Sonoma and Napa. Unfortunately family stuff kept them in France until recently. We stayed in touch via email and phone–we shared some common interests in good food and wine and they kept an eye on the market. Just recently they decided it was time to return to the US.
Of all the places in the world they could go, they chose Healdsburg. I couldn't agree more. Sonoma County and especially Healdsburg is a beautiful place to be.
My clients flew in from France to get started on their new home search. It was mid-January and there was almost nothing on the market. They had decided they wanted a quality vintage home walking distance from the Plaza in Healdsburg, ideally with a decent sized lot as they were coming off five acres and loved to garden. Guest quarters and a pool, with some architectural interest and high quality rounded out the bill.
Being well connected to our local real estate market, By networking with other realtors all over the county, not just in Healdsburg, I was able to find the perfect property that was not yet listed on the market. I knew it was a good bet when two different agents both suggested it. We had about six properties to look at and a weekend to find them something as the shipping container was shortly to be filled with their possessions and strike out across the Atlantic.
My clients loved the "stealth" house, made a good offer and got into contract almost right away. Just in time to as threats of two more offers came in just hours after our offer was accepted and the seller's friend tried to buy it out from under us once he found out the property was being sold.
Fortunately, we were in contract before any problems could start.
My clients are now flying back to France to finalize the sale of their Provence home and will be returning to Healdsburg and their new dream home. Meanwhile, I arranged for all the necessary inspections and attended them, and arranged for bids on some of the items that came up in the initial round of inspections. They were back in France packing like mad. We handled the entire escrow and final negotiations via phone and email and electronic signatures.
A couple of months later, they were firmly ensconced in their new home in Healdsburg, and we have managed to celebrate more than once over some of that good wine country food and wine.
Call me if you would like to find your dream home in the Wine Country.