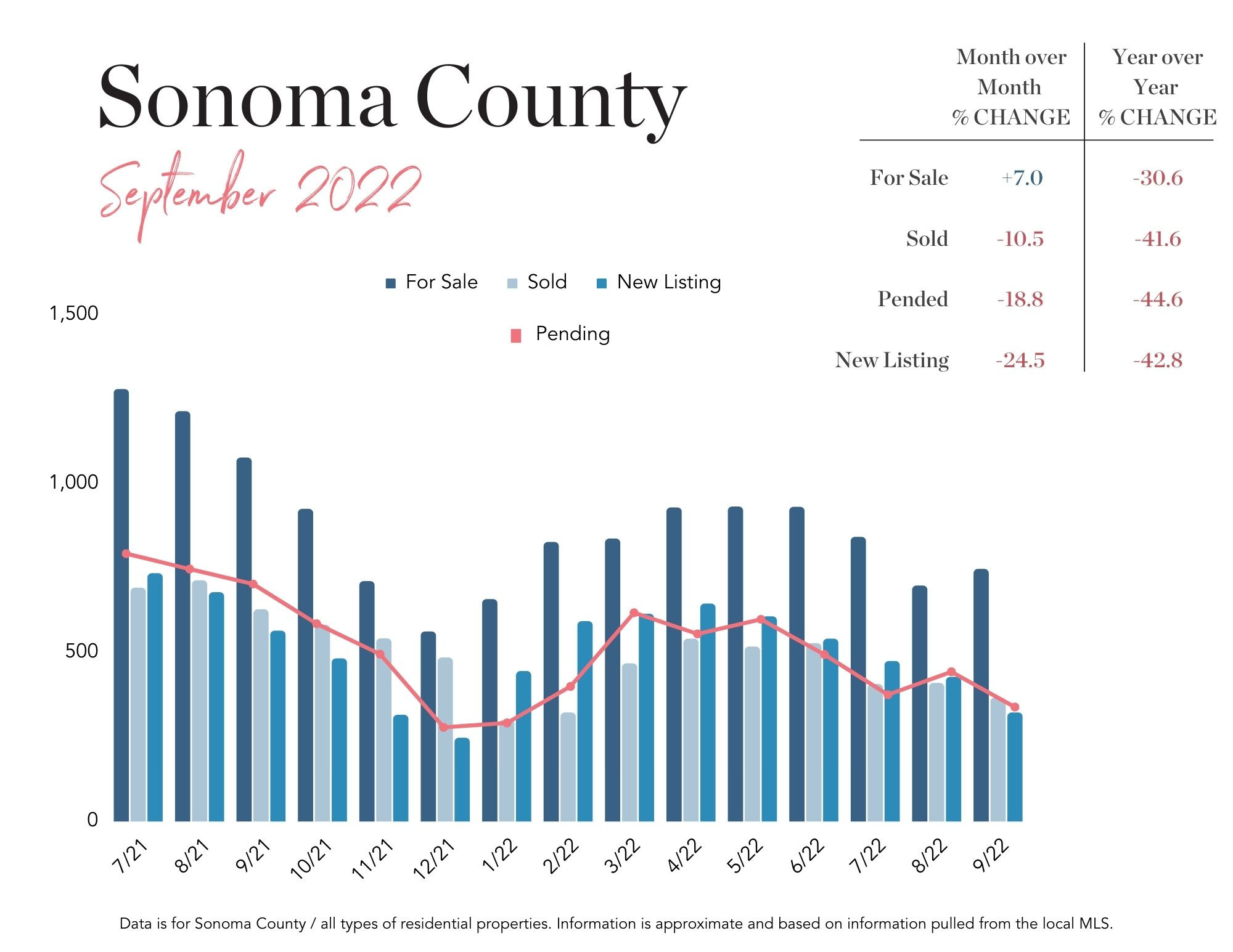 Sonoma County Real Estate Market Update: What Happened in September 2022
Market Talk
It's officially fall and inventory is on the rise around the country.  View the full report here: September 2022 Sonoma County Market Update.  We are seeing the typical seasonal bump in new listings in the Wine Country. However, rising interest rates affect some would-be sellers too.  They are holding off putting their homes on the market since they would be doubling their interest rate when buying a replacement home unless they purchase cash of course. And, there are still plenty of buyers in the market place searching for homes!
Mortgage interest rates are at their highest level in more than 14 years, sales inventory has ticked up a bit but is still historically low, and fear of a looming recession is still a topic of discussion in the media. What we do know is there are still buyers actively shopping for homes, and desirable properties that show well and are priced correctly have been going into contract, in some cases even with multiple offers and well over asking. One recent country property in Sebastopol priced at $2 million sold for $3,150,000!
It's very important that buyers understand there are a number of loan programs out there that can help offset the higher monthly payment at today's rates, and rates can vary significantly from lender to lender. You want to make sure you shop around and look at all options, from 2-1 rate buy down programs to credit union rates and special institutional lending programs. Be diligent in your research before choosing a lender to work with.  And a flashback to earlier years, some sellers may even have mortgages that are assumable at yesterday's low rates.  In the past those were typically adjustable mortgages so again it is important to do careful research.
Traditionally, markets like this will stabilize, but when that happens and what "stability" looks like is up in the air. Reach out to your trusted real estate professional to help you decide if it makes sense to make a move now or wait!