Are we in a housing bubble in Sonoma County?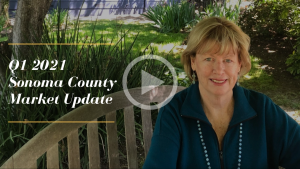 Sonoma County's vibrant housing market became even hotter through the first three months of 2021 as a rush of Bay Area residents continued to flee dense urban areas for the Wine Country, sending the county's median home price to an all-time high at the end of Q1!
Watch the video above for a quick recap on what's happening in our local real estate market.
Untethered from the office, many house hunters sought bigger living spaces and a more relaxed lifestyle. North Bay home prices that are viewed as a bargain compared to many other parts of the Bay Area were also a draw. And historic low interest rates spurred homebuyers to take advantage of attractive mortgage terms.
The median price for a home in Sonoma County has increased 13% since March 2020, when the lockdown began. Over the first three months of 2021, the median price was $745,000, a 15% bump from the same period in 2020. During first quarter of 2021, 1,049 home sales were finalized, a nearly 30% spike compared to the previous year.
These figures represent a remarkable turnaround for a local housing market that basically shut down for a couple of months last spring.
*Note: These stats reflect single family homes in Sonoma County and do not include condominiums.
Are we in a housing bubble?
Today, most home loans are 30-year fixed-rate mortgages with historic low interest rates. Thanks to lending reform, people don't get approved for a loan they can't pay like they did in the 2000s when the market crashed. This means that even though houses are selling for top dollar, the buyers that purchase them can afford it.
The amount of cash (often from stock rich tech workers) we have in the market continues to impact multiple offer scenarios—and while we can't predict what will happen in the coming months, all we can say is that this market looks nothing like it did back when the bubble burst in 2008. There is a national shortage of housing stock that is a trailing effect of the great recession.
So, we think it's safe to say that we are NOT in a housing bubble.
What To Expect As We Look Ahead to Summer 2021…
Many factors will exert an influence this year: the continued rollout of the vaccine, mortgage rates, whether or not more inventory hits the market and the possibility of additional economic relief measures. Despite all the challenges we face, there remains much to be optimistic about as we prepare for the summer market!
Thinking of buying or selling in 2021? Planning on relocating out of state? Contact Pam for a list of resources and help planning your next move.